It's safe to say that ghd & T3 are two high-end hair tool brands that have the most competitive flat irons on the market. Their highly praised straighteners are even beloved by professional celebrity stylists.
But you might be a little hesitant when choosing the best straightener brand between the ghd and T3. There are too many models and so many features.
To help you understand their differences and make your decision wisely. We decided to write this ghd vs T3 straightener comparison. We will select the best and the most expensive flat iron models from the ghd and T3 separately – ghd Platinum Plus & T3 Singlepass X.
Design Review: The ghd Platinum + Is Cool But We Love The T3 Singlepass X Better
The T3 Singlepass X straightener and the ghd Platinum Plus are almost the same sizes, so are the plates' widths.
What is different is the location of the power button. They both use a rounded power button design, but T3 Singlepass X put it on the frontside while the ghd Platinum + chooses to put the button on the backside of the product.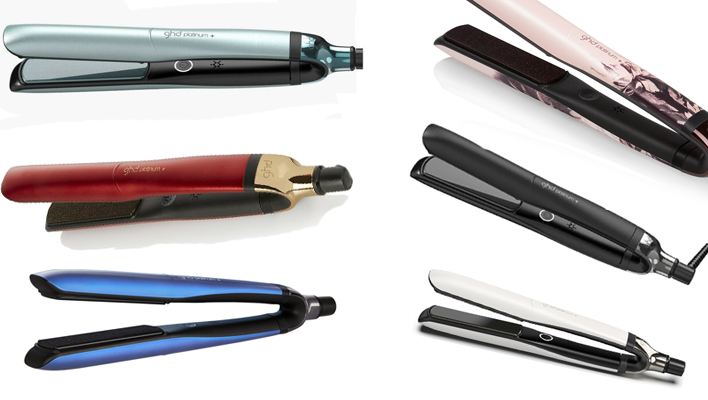 Other than that, you can not find any extra design on the body of the ghd Platinum Plus. Besides, the ghd Platinum Plus utilizes a wishbone hinge, which makes the whole product a compact and aesthetic straightener.
The T3 Singlepass X straightener, on the other hand, doesn't have a surprising amazing appearance, but what we love the most is its audio & visual user interface.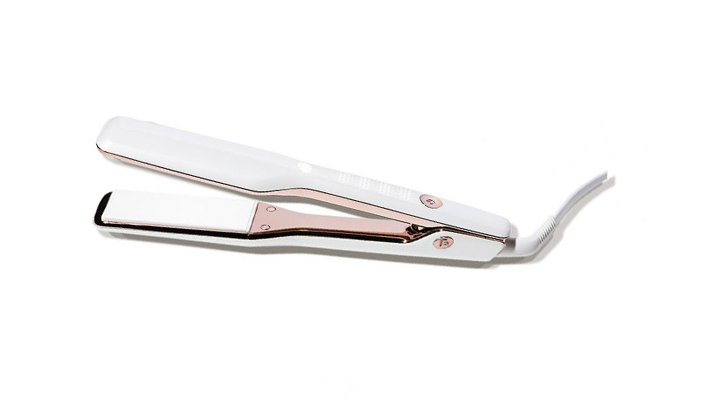 You can see there is a pretty LED light indicator that tells you what setting it is on. And you can adjust the heat settings easily with only one button.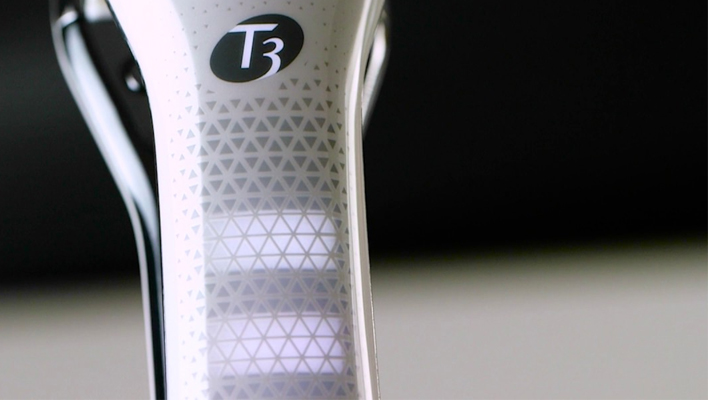 When it comes to the color options, obviously, the ghd has more colorful options to choose from. From black & white and white to cobalt blue, there are many ghd Platinum Plus flat iron models available to buy. The T3 Singlepass X only has one design: rose gold & white, but it is always the most classic design for the fans of T3.
Heat Up Time Comparison: The ghd Platinum Plus Heat Up More Quickly
According to ghd, the ghd Platinum Plus is the model that has the quickest heat up time. Compared to its regular Platinum straightener, the Platinum Plus is more effective with a 20s heat up time.
You think it is good enough? the most surprising thing is that the ghd Platinum Plus just needs 6 – 10 seconds to heat up in practice.
On the other hand, the T3 Singlepass X flat iron usually needs 15 – 30 seconds for heating up. It is still a faster flat iron compared to other drugstore options, but we expected it could be faster considering its price and popularity.
But you should know that the highest temperature the T3 straightener can reach is 410 degrees while the ghd Platinum Plus uses 365ºF constant heat. And a heat protectant that blocks high heat is a must.
ghd Platinum Plus vs T3 Singlepass X – Styling Performance
Straightening Performance – Tie Game
The flat iron plate specs aren't far off from one another, with the ghd Platinum Plus opting for a ceramic flat iron plate with advanced temperature detection and high spec gloss finish while the T3 Singlepass X has the Digital T3 SinglePass technology and T3 custom blend ceramic plates.
There's a slight difference here with plate materials, with T3 claiming their flat iron is tourmaline + ceramic. But both stylers did a pretty good job when getting your hair relaxed and straight in our tests.
The ghd Platinum Plus is more convenient to use as it comes with an Ultra-zone predictive technology that recognizes hair thickness & styling speed. The smart sensor can monitor heat 250x per second and you don't have to adjust the heat yourself. And your hair is going to be very shiny and smooth after using the flat iron. Compared to T3 Singlepass X flat iron, it is also very powerful as you just need one or two passes to get the job done for your hair sections.
The t3 Singlepass X styler feels a bit hotter than the ghd when you hold it. And its Singlepass technology has made itself very clear: you just need one pass to get perfectly straight hair! The t3 Singlepass X's extremely powerful temperature control makes it a professional tool for straightening your hair. And the negative ions will tame your mane, leaving your strands very silky and shiny.
Curling Performance – ghd Takes The Lead
When it comes to curling hair, the ghd Platinum Plus styler – the company's flagship model is more suitable for adding curls & waves to your hair.
I am not saying the T3 Singlepass X is not qualified for creating curls and waves, but the new ghd Platinum Plus styler's unique wishbone hinge and round barrel allow people to have more styling options, and the styling result is more natural without applying extremely high heat to your hair. Ghd claims that you can create sleek locks, curls, flicks, or waves just in minutes.
Safety & Portability
Both of these stylers have automatic shut-off function, the ghd will enter sleep mode after 30 minutes of non-use while the T3 will shut off after an hour.
Regarding portability, both products have a worldwide voltage feature, which allows you to use their hair tools in any country without buying a voltage converter.
Price Comparison
The ghd comes up with a big perk on their official website, you can purchase the ghd Platinum Plus black and white edition at the price of $186.75 (Original price: $249). However, I can not find this discount on their Amazon store or any other platforms.
Meanwhile, the T3 Singlepass X stragihtener is slightly cheaper than the ghd ghd Platinum Plus, the offcial sales price is $230.
Conclusion:
These 2 hair stylers are comparable across the board. You can get a smarter temperature control system that styles your hair automatically by purchasing the ghd Plantinium Plus. It's a new model and has an extremely fast heat-up time, and it has great performance when styling, including straightening and curling.
As a very popular flat iron & straightener, the T3 Singlepass X is going to give you the quick and the perfect stying process by providing you a strong Singlepass technology. Most importantly, you can adjust the temperature manually to style your hair as you want.