When you go to an old school salon, you probably will see vintage-designed leather chairs with a giant hair dryer hood over clients' heads. This type of hair dryer lets you sit under the dome cap with no pressure.
Are you curious about how this type of hair dryer works and why it is professional for salon use? Let's learn more about this big fellow today. We will introduce the hair dryer & chair combo delicately and show you the best model of hair dryer with a chair together.
What Is Hair Dryer with Chair
The combo of hair dryer and chair consists of a large bonnet hair dryer and a comfortable chair made of foam or leather.
Do the hair dryer and the chair come together? The dryer is not integrated into the chair. Therefore, you can also get them separately. The chair itself usually has an opening in the back, and it will fit all the hooded hair dryers in the market. That means the hair dryer and the chair can be changeable if you have other available dryers or chairs that are in the right size.
Why the Hair Dryer & Chair Combo Is Popular at Salon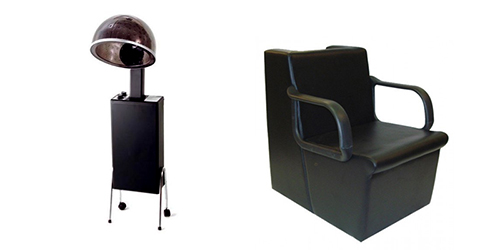 We know that a sturdy chair with a matching heavy-duty hair dryer that comes with a bonnet will make the salon look professional and attractive. But, what benefits can these dryers bring to us actually?
Precise & Steady Temperature
Compared with regular handheld lightweight hair dryers, these bulky models have a more advanced temperature controlling system. The temperature is not just about "cold, warm, hot," you can set the temperature according to your needs. It's all up to you. And the powerful dryer behind the chair will not get overheated like small blow dryers, and it will offer hot airflow stably and constantly.
Adjustable Timer
Besides the temperature, you can also customize the drying time. Yes, you can control the drying time from one min to several hours accurately. This saves you tons of time and labor when you have multiple clients who just washed their hair. No more complaining from clients anymore, and you do not need to watch your clock from time to time.
Dry Clients' Hair More Conveniently
It's safer that you do not need to worry about knocking down the dryer accidentally because the chair has clips that can fix the hair dryer. It prevents the dryer from falling out of the back when you are raising or lowering the hood.
It does not need too much space like standing hair dryers that have wheels on the bottom. And you can adjust the dryer's height by pulling the shaft to fit your clients' height. All these features make hair dryer with chair combo a perfect choice for salons.
The only con that I need to mention is that the dryer is too heavy, and it's tiring when you try to move the dryer to another place. Although some models have already had wheels on the base, it's still a problem when going upstairs with it. If you need to move the dryer often, then you should pay attention to this.
Best Hair Dryer with Chair
There are several brands who are famous for their high-end dryer chair combo, such as Highland Venus, Pibbs, Belvedere. Here we'd like to show you the best selling hair dryer with chair online based on true consumers' reviews and feedbacks.
Dryer Chair Combo – Our Best Pick Recommendation:
BR Beauty Kate Dryer & Chair Combo
Product Measurements:
Chair Width:23.5″
Chair Depth: 30.5″
Chair Height: 31″
Seat Height: 18″
Inside Arm to Arm: 18.5″
Dryer Hood Inside Diameter: 12.5″
Dryer Hood Arm Range: 2.25″ – 11″
The BR Beauty is a decent and classic dryer & chair combo that is 100% made in the USA. It's a 980 watts hair dryer with a solid black chair.
With a durable wood-frame structure, the antique chair offers your clients ultimate comfortable drying time with its' thick and soft cushions. The arms are removable so that you can make the chair a more compact one by removing the arms.
When it comes to quality and safety, the dryer chair set is approved by UL & CSA. You will find changing its temperature has never been this easy before. Just twist its knobs, it changes the time and heat, and it works like a charm. For people who have concerns about the warranty, it has an after-sell service statement that you will get a 3-year warranty on the motor of the chair and 1 Year warranty on the Chair & everything else.
Things to Know Before Purchasing Hair Dryer with Chair
It does not dry your quickly
These types of hair dryers can provide you with gentle & warm airflow. They usually come with low wattage usage to make sure you enjoy every minute when your hair is being dried without heat damage & crazy frizz.
But, if you are looking for something that can dry your hair in minutes, you can go for a high wattage blow dryer.
Make sure your room has enough space
Hair dryers with chair are bulky and big. You should probably think twice about how many models you need if you are buying them for salon use. For home use, you should make sure you have enough space for this dryer too.
Install a Dryer with Chair
Installing a dryer chair is quite easy as you just need to assemble a few pieces.
They will come with semi-assembled parts. You only need a few steps to get the hair dryer working.
Push the Dryer motor into the opening place.
Install clips with screws to secure the dryer motor.
Put the detachable hood on the dryer. Then it's finished.