When it comes to expensive hair dryers, a ghd Helios is probably one the most well-known product for people who are looking for an advanced dryer in recent years. Today, we are going to compare it with a fairly new dryer from a brand with a long history – The Parlux Alyon.
Compared to ghd, Parlux is not an extremely popular brand in the states, but this professional hair dryer brand was founded in the late 70s and their dryers are made in Italy. We will see which hair dryer will be the winner – the Parlux Alyon or the ghd Helios.
Parlux Alyon vs ghd Helios: I Think the ghd Helios Looks Better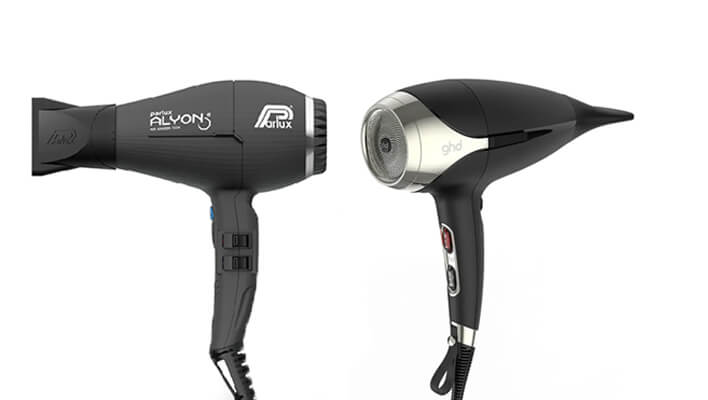 In my opinion, ghd Helios is the clear winner in terms of design. Generally speaking, the ghd Helios looks more modern and stylish and the Parlux Alyon has a retro look and it is similar to 90s blow dryers. But the Parlux Alyon also has some advantages that ghd can't provide.
With a thinner hair dryer barrel and narrower airflow nozzle, the ghd Helios is able to deliver airflow precisely even without a concentrator attachment. And the ghd Helios is a pretty low-key hair dryer, you have 5 colors to choose from on their site and all of them are low-profile. ghd claims that the helios dryer is their best and the most professional model, but it has a lightweight body – the Helios blow dryer only weighs 780g.
On the other hand, the Parlux Alyon dryers looks kind of short and chubby. One big difference between Parlux Alyon and ghd Helios is that the Parlux Alyon's setting buttons are on the side of the handle. This is a benefit for changing settings conveniently. What is great for the Parlux Alyon is that you will have way more colors available compared to the ghd Helios. Surprisingly, this hair dryer looks bulky, but it only weighs 456g according to the specs, so it is even more lightweight than the Helios.
Parlux Alyon vs ghd Helios: Blow Drying Technology
Both ghd Helios and Parlux Alyon are equipped with a built-in negative ion generator, which helps to prevent hair damage from heat, add shine to finish, and strengthen your hair follicles and cuticles. But neither of these dryers has a button for turning off the ionic feature.
Besides, we can see these two dryers have put their effort into reducing the noise for blow drying. This is something that regular dryers won't offer. The ghd Helios features its "Bespoke acoustic system technology" while the Parlux Alyon comes with a "Built-in Silencer" to ensure low sound levels.
Parlux Alyon vs ghd Helios: Blow Drying & Styling Performance
One of the most important considerations when buying a dryer is whether this dryer is powerful enough for a quick blowout, especially for people with long or thick hair that takes time to dry. Performance-wise, both ghd Helios and Parlux Alyon won't let you down. They both can blow dry all types of hair effectively.
But they do have something different when it comes to airflow. The Parlux Alyon is more powerful than the ghd Helios thanks to its 2250 watts motor. And they claim that this dryer can deliver airflow up to 84 cubic meters of air per hour.
The ghd Helios only has a 1600 watt motor, but it is still decent due to ghd's "Bespoke aerodynamic technology", which makes the airflow very precise and airflow comes out from the specially-designed nozzle smoothly and rapidly. Apart from that, I think the ghd Helios is slightly better for delivering shine and smoothness to hair. The dryer allows you to accurately dry a certain small section at a time, so you won't get extra frizz and flyaways that can be caused by overdrying.
Unfortunately, even though I mentioned these two dryers have utilized their special technology to lower the levels, I have to tell you that the Parlux Alyon and ghd Helios are not considered top quiet hair dryer as strong airflow is inevitably loud. But I'm sure that the hair dryers are beyond average in terms of noise resistance.
Pricing
ghd Helios is a pretty new high-end hair dryer that lived up to the hype. With a $279 retail price, it isn't cheap. But then, the Parlux Alyon isn't cheap either, with an MSRP of $285. They are at a similar price.
However, you may get a discount for the ghd Helios when it's on sale. And I haven't seen any deals for the Parlux Alyon.
How to Choose Between the Parlux Alyon and ghd Helios?
Both Parlux Alyon and ghd Helios hair dryer have their strengths and weaknesses, but I feel the ghd Helios is more worth-trying in 2022. The ghd Helios is more popular and ghd has plenty of hair products and hair tools to work with the dryer. And it's cheaper than the Parlux Alyon. And it has great blow drying performance as well. But buying the Parlux Alyon is not a bad idea for people who need very powerful airflow.