Gem Force, a brand that just manufactured a couple of blow dryer models, is a trending brand on various online eCommerce platforms. So, how do their blow dryers work? And what performance level do their blow dryers have? Well, if you have the same questions, we can figure out together in our Gem Force hair dryer review.
Gem Force Intense Hair Dryer Review – Design
The hair dryer model that we reviewed is a black & gold version from Gem Force. It has a pretty cool-looking and clean design on the outside. Everything on this dryer is black except the printed logo and text on the dryer's body. It even comes with an all-black box that has a matching style to the dryer itself.
After unboxing the Gem Force hair dryer, you will find the blow dryer has a slender and thin dryer body and a pretty straight holding handle. But the only thing is that It seems that the handle is not ergonomic-designed.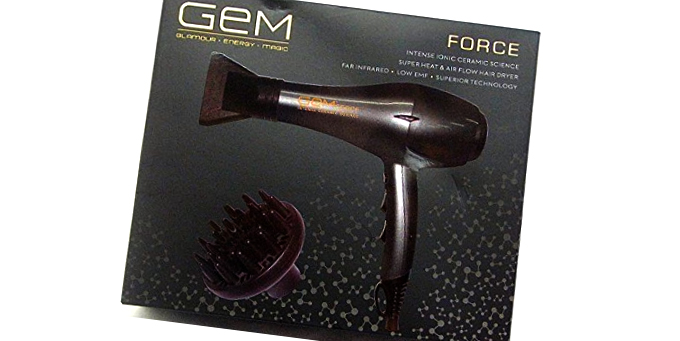 2. Motor Review
As the tech specs show, this Gem Force blow dryer uses a 1600 watt DC motor as the core that produces airflow. To be honest, I'm personally not a fan of DC Motors as DC motor hair dryers are louder and less-durable, although AC motors have advantages when it comes to the weight.
As for its 1600 watt output, I would say this is just acceptable. We've reviewed many hair dryers that have higher wattage that can generate powerful airflow. And those hair dryers are still able to balance its weight that you do not feel tired while drying hair.
3. Heat/Speed Settings
We always love the design that separates the heat button and speed button individually. This Gem Force hair dryer is not letting us down on this and the cold shot button works perfectly. However, we found a small flaw that this hair dryer only has 2 levels regarding temperature settings.
Except compact travel hair dryers, a standard family blow dryer usually has 3 heat settings. Some high-performance blow dryer even has 3-speed settings as well. I'm pretty sure the lack of temperature adjustment is related to the built-in powerless AC motor.
3. Weight
As for the weight, I thought the model will be pretty lightweight since the motor is a lighter AC motor. But, it actually did not give me that feather feeling like a super lightweight travel hair dryer. So I went to Gem Force's product page, and the page indicated that the dryer weighs around 3 pounds. I was kind of surprised since normally a DC motor hair dryer's weight range is 1.2 pounds to 2.5 pounds. Luckily, the weight is not that noticeable while blow-drying, and the handle is easy to hold.
4. Technologies
As an ionic hair dryer, there is no doubt that there is an ionic generator inside the body of this dryer. Your hair will be less frizzy and more smooth after using an ionic hair dryer, because the negative ions emitted will moisten the cuticles and tresses.
Plus, the built-in ceramic technology can help the heat penetrate your hair, giving it warm and even temperature while drying. The heat that ceramic materials generate is called far-infrared heat, which is widely used to eliminate frizz and fight heat damage too.
5. Attachments In the Box
The attachments included in the box are decent. Although the dryer does not come with a full set of attachments, the diffuser and the nozzle are adequate for most of the cases. Whether you want to create curly hair or precisely dry a specific hair section, you will find the tools are useful. But it will be even better if Gem Force can add a comb attachment for straightening and detangling hair knots.
6. Price of Gem Force Hair Dryer
The sale price of this Gem Force blow dryer is understandable as it comes with great technologies and 2 different hair dryer attachments. And I can feel the materials are solid and durable as a home hair dryer. You can not expect this blow dryer can to work as a powerful salon grade hair dryer, but it's definitely a versatile dryer that goes well with all types of hair at home.
Summary
Gem Force hair dryer is a handheld blow dryer that can meet your everyday drying needs. If you are not looking for something that gives you a premium & supreme drying experience, the Gem Force hair dryer model can get the job done quick and neat. However, you should know this blow dryer only has 2 heat settings and there are a few tiny flaws of its DC motor. If you are okay with them, then getting this Gem Force will be a solid option for you.
Gem Force Hair Dryer Review
Design

Motor

Drying Technology

Attachment

Price
Summary
When it comes to drying efficiency and technologies, this Gem Force hair dryer will not let you down with its reasonable price.