It has been over 100 years since the very first hair dryer was invented in 1920. The hair dryer industry nowadays is getting more advanced and more technological at a fast pace. People are no longer satisfied with a simple blow dryer that only drys hair. They expect more smart drying features and they hope a hair dryer can bring them hair health as well. Well, today we are going to give you a comprehensive guide and a detailed introduction to the latest types of hair dryer so that you won't get lost when picking a hair dryer type on the market.
We will classify all the hair dryers from several aspects: use, design, technology, etc. Some versatile hair dryer models may fall into multiple categories. But don't worry, we will go through them step by step and you will understand their differences quickly.
Types of Hair Dryers – Salon Use & Home Use
Professional Hooded Hair Dryer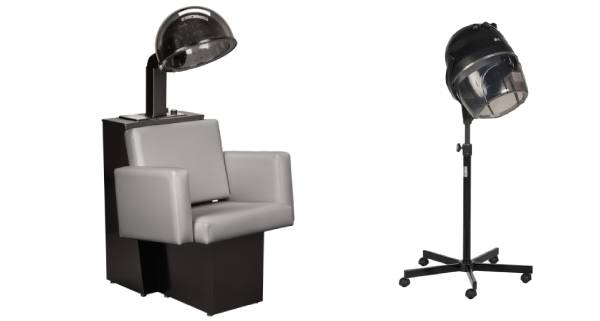 You can see this type of hair dryer in a lot of beauty salons. Professional hooded hair dryers usually come with a chair that allows customers to sit under, and these hooded hair dryers can offer customers precise drying time and drying temperature. They are not suitable for quick blowouts since this type of hair dryers only delivers warm and gentle hair. But, they provide the most comfortable drying method for people who have thick and long hair that is hard to get entirely dry.
The hooded hair dryers are bulky and space-consuming, which makes them hard to move. To make these hooded hair dryers more portable, some hooded hair dryers feature a stand and wheels. So people can easily move them and change the height of the hair dryer hoods.
Handheld Blow Dryer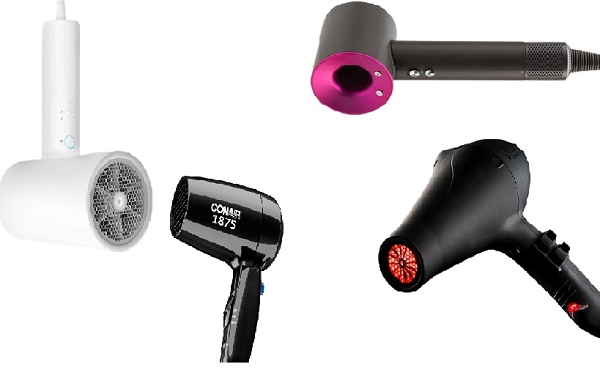 The most commonly used type in our life is the handheld blow dryer, which is lightweight and convenient to use. The handheld blow dryer has a simple structure, they usually have a motor and heating wires inside the dryer body. The motor's propellers generate airflow which is heated by the wires. And you change the airflow velocities and temperatures by the buttons on the handle.
With new technologies developed, some blow dryers now have a creative design compared with traditional blow dryers. For example, the Dyson Supersonic has put the motor in its handle, making the hair dryer bladeless. And there are a few blow dryers that do not have a handle, ensuring you a more comfortable way to reach awkward drying positions.
For people who like to take their hair dryers to travel, they can opt for a travel hair dryer that usually comes with a compact design and a lighter weight. This type of travel hair dryers usually will have a folding handle and a dual voltage feature that allows you to use it without a voltage converter in other countries.
Types of Hair Dryers – Motor Types
If we classify blow dryer types by their motors, there are two types of hair dryer motors: AC motor dryer and DC motor dryer. You can see the list the pros and cons of these two types of dryer motor below.
Advantages of AC motors:
Stronger Airflow
Long-Lasting Lifespan
Less Noisy
Disadvantages of AC motors:
Advantages of of DC motors:
Disadvantages of DC motors:
Less Quiet
Lifespan Is Slightly Shorter
Most hair dryers in 2020 are equipped with an AC motor as it can extend the dryer's life and provide relatively powerful airflow. However, it does not mean all the AC motors are better than DC motors. Dyson's'digital motor' is also a direct current motor. But their patented technology can make their brushless DC motor powerful, quiet but light.
Types of Hair Dryers – Technologies
When it comes to technologies, we can divide hair dryers into 4 classes by their features. These technologies are pretty popular in today's market and some high-end blow dryers have all the technologies available in their dryer models.
Ionic Hair Dryers
Negative ionic technology is the most popular technology that used by hair dryers. With a ions generator inside, a blow dryer can emit negative ions that can neutralize positive ions on your wet hair. Negative ions can reduce hair frizz and flyaways, giving hair cuticles and strands a shiny and protect finish. Your hair will be hydrated healthily. Some ionic dryers have a switch for the ionic function, and you can turn it on/off according to your hair condition.
Ceramic Hair Dryers
Ceramic hair dryers can help you with drying efficiency and the ceramic materials can emit far infrared ray while blow-drying. Far infrared heat can penetrate your hair and dry them gently and thoroughly. Besides, It's also believed that ceramic hair dryers have lower EMFs because of less use of metal heating materials.
Tourmaline Hair Dryers
Tourmaline is a kind of gem that hair tools use to boost negative ions' effects. Tourmaline added to hair dryers components can help negative ions have a stronger transferability. What's more, using tourmaline is also a method to generate far-infrared heat that goes through your hair effectively. A tourmaline + ceramic + ionic hair dryer is now the best option for a family blow dryer.
Titanium Hair Dryers
Titanium hair dryers are not very commonly seen, but they do have a great drying performance. The most titanium blow dryer is from a brand called 'BaByliss', and their titanium series blow dryers are the most competitive dryer models in 2020 even people do not know what titanium is. Titanium blow dryers have stronger and hotter airflow, your hair can be dry in a short time. Most importantly, titanium dryers are extremely lightweight. If you want a light hair dryer with amazing temperatures, a titanium blow dryer will become your best friend.
Summary:
There are many types of hair dryers nowadays. Choosing a great blow dryer may be a time-consuming job to do. We hope you have already had an idea what kind of hair dryer should be your choice after reading this article. Do forget to check out the specific tech specs even you have the right hair dryer type in mind. You should always be careful with this important info such as wattage, dimensions, attachment types, etc.