We have talked about that a hair dryer with a long cord can give you more drying flexibility and less cord tangling problems. However, the long cord becomes a burden while traveling. Regarding cord organization, what is the best hair dryer that comes with the minimum hassle? A hair dryer with retractable cord is what you need!
What Is Hair Dryer's Retractable Cord
A retractable cord design is functionality that travel hair dryers have, which allows you to pull the cord to a distance and retract it by pressing a retract button.
How Does The Rectractable Cord Work?
There are two main kinds of hair dryer retractable cords in the market.
The first kind of retractable cord uses coil springe to get the cord retractable, and it also uses elastic cable material to cover the wire.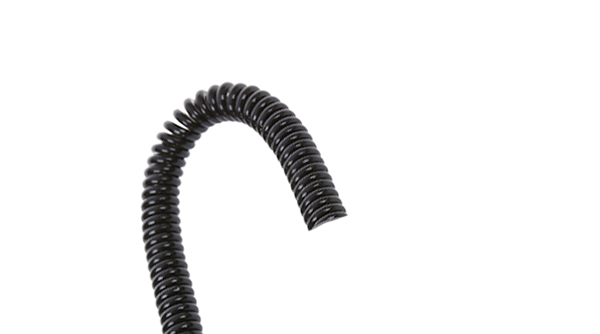 This type of cord usually has a spiral shape to extend the cord length as possible. Thus, the cord gets straighten and extended when you pull it. When you release the cord after pulling the cord to a distance, the cord will be back in shape, just like a spring.
The second type is more advanced. There is a reel in the hair dryer body that has teeth to controls the cord.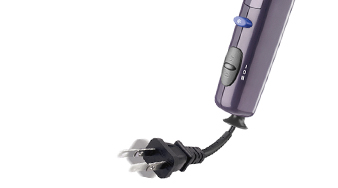 When you pull the cord out, the reel's teeth will automatically fix the cord length. The cord will not be back immediately after your letting go. You can press the button on the body of the hair dryer, which allows the teeth to lose control of the cord, then the cord will be retracted automatically to its original place.
People may not know that the cord and the plug are extremely important when it comes to the quality of a hair dryer. A good hair dryer's cord should be durable and insulated, which will offer you trusted performance and best security.
What Is Good About Having A Retractable Cord
Easy to Organize
People always complain that keeping their hair dryer's cord neatly is hard.
Besides buying or making a DIY hair dryer holder for organizing the cord, getting a blow dryer that has a retractable cord is also a good idea.
Plus, the retractable cord is really a travel helper for people who need to take their hair dryer in luggage. It's because the retractable cord makes the dryer more compact and more small-sized than regular blow dryers.
Avoid Cord Damage
When you have a pretty long cord that you do not necessarily need, the cord will get damaged easily.
You might step on it and you will get tripped without cautious. What's more, the hair dryer wire's lifespan gets short because of wear and tear.
If the cord is scratched by some sharp tips, it might cause problems like electrical leakage and circuit breaker tripping.
Therefore, a retractable cord is safer and trusted compared to other types of hair dryer cords.
No Cord Tangling
When it comes to the most annoying part of storing a hair dryer, the cord always gets tangled so you have to unwrap the knots manually every single time. I know how frustrated it is when you have to deal with the cord first with your hair being wet and dripping water. A dryer with retractable cord can save you more time and there is no need to wait before blow-drying.
Free Drying Experience
A retractable cord offers convenience and flexibility since you do not have to hold the cord with one hand to prevent your hair from getting affected negatively.
If the cord length is not desirable, the cord of your dryer sometimes will touch your hair.
This will generate static on your hair and it will degrade your hairstyle as well.
So, having a hair dryer that has a retractable cord whose length is adjustable means a lot.
Best 5 Hair Dryers with Remarkable Retractable Cord
We've collected the top 5 leading hair dryers with retractable cord feature available here. Well, with a retractable cord, you won't face tough challenges including cord storage, precise cord adjustment and reducing dryer's dimension in the luggage.
#1. Conair 1875W Cord Keeper Exclusive Hair Dryer – Best Retractable Cord Design
As a world-famous hair dryer brand, the travel hair dryer from Conair is always a solid choice. The 5 feet retractable cord is a big plus!.
This Conair cord keeper hair dryer has the best retractable cord system that you can have easy storage and portability. The cord will wind back into the dryer once you press the button on the dryer body.
With tourmaline, ionic and ceramic 3 in 1 technology, your hair will be smooth-looking and shiny. The precise airflow settings are flexible to adjust. Besides, if you are a person who needs to maintain hairstyle frequently, the concentrator and the diffuser attachments will help you a lot.
#2. Conair 1875 Watt Cord Keeper Hair Dryer With Retractable Cord
This dryer is more like a plain version of the first Conair Cord Keeper model. But it does have some special strengths. And you can get this retractable cord hair dryer at a very friendly price.
As another popular hair dryer from Conair, the blow dryer is also equipped with hair care technologies such as tourmaline, ceramic, infrared heat, and negative ions.
The dryer has a dual voltage setting and a foldable handle, making a great travel blow dryer. Unfortunately, it only comes with 2 heat/speed settings.
#3. Andis 1875-Watt Fold-N-Go Ionic Hair Dryer With Retractable Cord
Among all the Andis hair dryers, this Fold-N-Go is the best overall model. This worth-buying hair dryer provides reliable airflow heat and speed, making your blow-drying a great time.
The retractable cord is around 6 feet long. And they save a large space on the dryer for placing the retract button, so you can get the cord back conveniently and its mechanism works very well.
The Fold-N-Go hair dryer is all about compact style. There are 3 levels for adjusting heat/speed, and you can easily control them by pushing the button in the middle of its handle. To get a blast of cold air, the low-key black cool shot button gets the job done perfectly.
4. Revlon 1875W Full Size Travel Hair Dryer with Retractable Cord
Comes with a folding handle and a worldwide dual voltage setting, you know this blow dryer is born for travel. To give you perfect travel experience, the dryer from Revlon offers you maximum mobility and portability by having a safe retractable cord and a retract push button.
The Revlon travel dryer has a pretty small size and a cool black color coating. In addition, the dryer is extremely lightweight that it only weighs 4 ounces. However, it only has 2 levels of heat/speed settings.
5. Sunbeam HD3010-005 Retractable Cord Handheld Hair Dryer
This Sunbean hair dryer is another great model with retractable cord and folding handle features. The cord has a 5.5 feet long length and will fit most of the use.
The 3 air/heat powerful settings enable you to control the airflow as you want. Besides, its cold shot button and retract button are convenient to use, making blow-drying is a blessing.